ACCESS
The Gijón Open works to make the event as inclusive and accessible as possible. There are several reserved places on Centre Court and Court 1 for wheelchair users. These spaces can be reserved through the general sales service. The venue also has wheelchair-accessible toilets.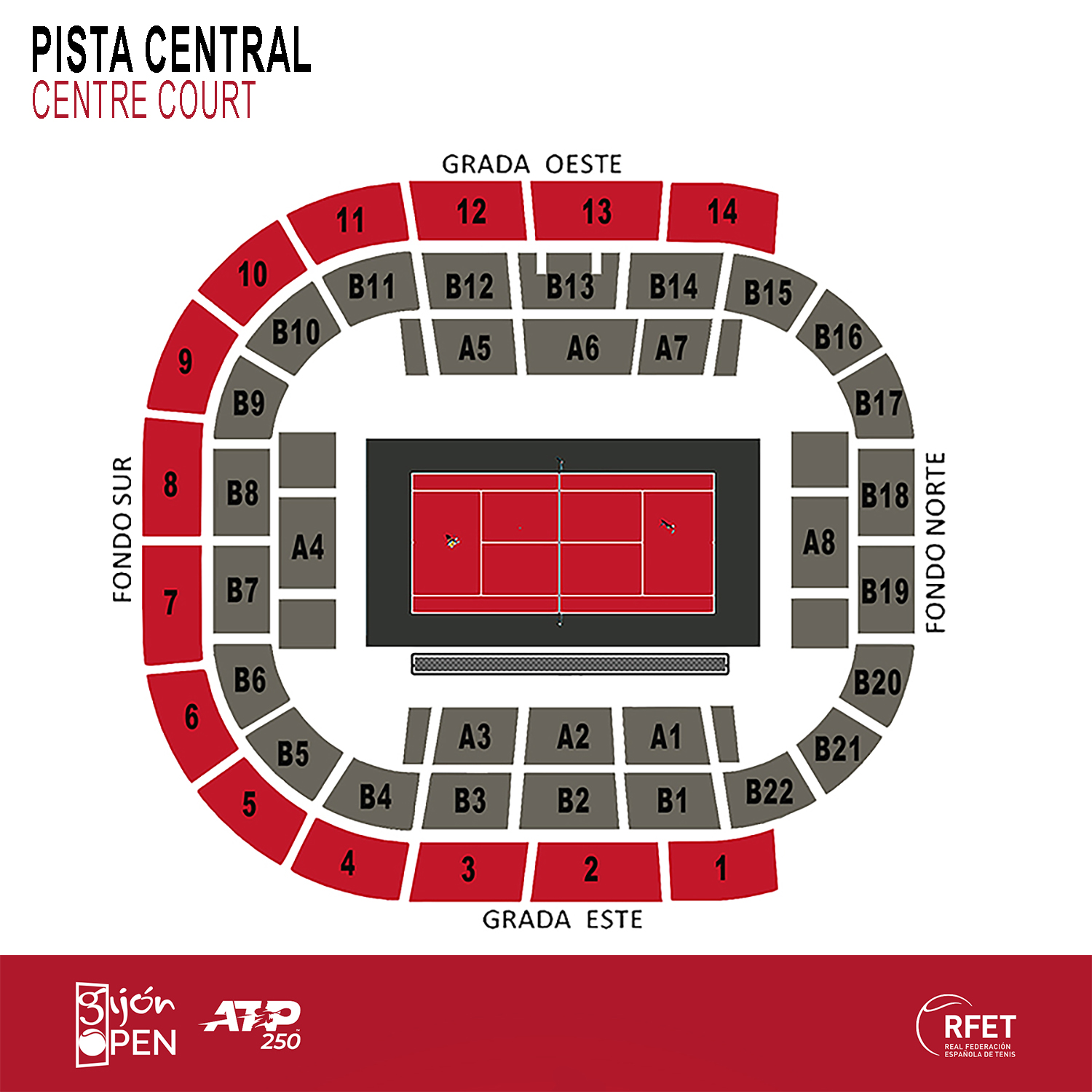 ENTRY CONDITIONS
Visitors agree to comply with the following regulations as well with all applicable laws:
The organization reserves the right of admission.
Upon entering the event venues, the public may be subject to searches according to the law. Any objects that may be considered dangerous by the organizers, or prohibited by the current legislation, may not be allowed in the venue, as well as photo cameras or video cameras or laptops.
All covert marketing activities, as well as political and religious propaganda, are strictly prohibited. The organizers reserve the right to take legal action at its sole discretion against any persons or entities that violate this rule.
The ticket holder may not:
- Continually collect, disseminate, transmit, publish or release from the grounds of the tournament any match scores or related statistical data during match play (from the commencement of a match through its conclusion) for any commercial, betting or gambling purpose.
- Film, photograph, broadcast, stream, publish, transmit and/or otherwise offer to the public (or assist any third party in offering to the public), on a live or on a delayed basis, in whole or in part, and whether on a free basis or subject to payment, any sound recording, photograph, video footage, motion picture, film and/or other audio-visual content captured by any means whatsoever inside the tournament site.
The organization may prevent you from exiting the venue during the event for security reasons. If, once informed, the spectator leaves the premises, re-entry could be denied, and their right to a financial refund will be forfeited.
The following actions or situations may be a cause of impediment of access to the venue or presence in it:
Engaging in any verbal dispute, fights or public disorder.
Introducing, carrying or using any kind of weapon or other item that could produce the same outcome, such as sharp items or items heavier than 500g/ml, which could be used as projectiles, including food in rigid containers or bottled drinks.
Introducing or being in possession of sparklers, firecrackers, explosives or, in general, flammable, corrosive and pyrotechnic devices.
Being under the influence of alcohol, narcotics, psychotropics, stimulants or any similar substances.
Introducing or selling any kind of alcohol, narcotics, psychotropic substances, and stimulants or anything similar.
Introducing, displaying or making banners, flags, symbols or any other signage containing messages that incite violence or terrorism, or whereby one person or group is threatened, insulted or humiliated because of their racial or ethnic origin, religion or belief, disability, age, sex or sexual orientation.
Performing songs, expressions, sounds and any behavior that incite to violence or terrorism, or which attempt to vex a person or group because of their racial or ethnic origin, religion or belief, disability, age, sex or sexual orientation.
Breaking into the court or any other restricted area.
Having been ban from accessing any sports events, until the ban has been lifted.
Possession and/or trying to enter with any of the following items may also cause impediment of access to the venue: blunt objects, beverage cans, alcoholic beverages, food and drinks, bottles and glasses, bottles with cap, banners and/or banners that incite violence, motorcycle helmets, computers or any other objects that may be thrown.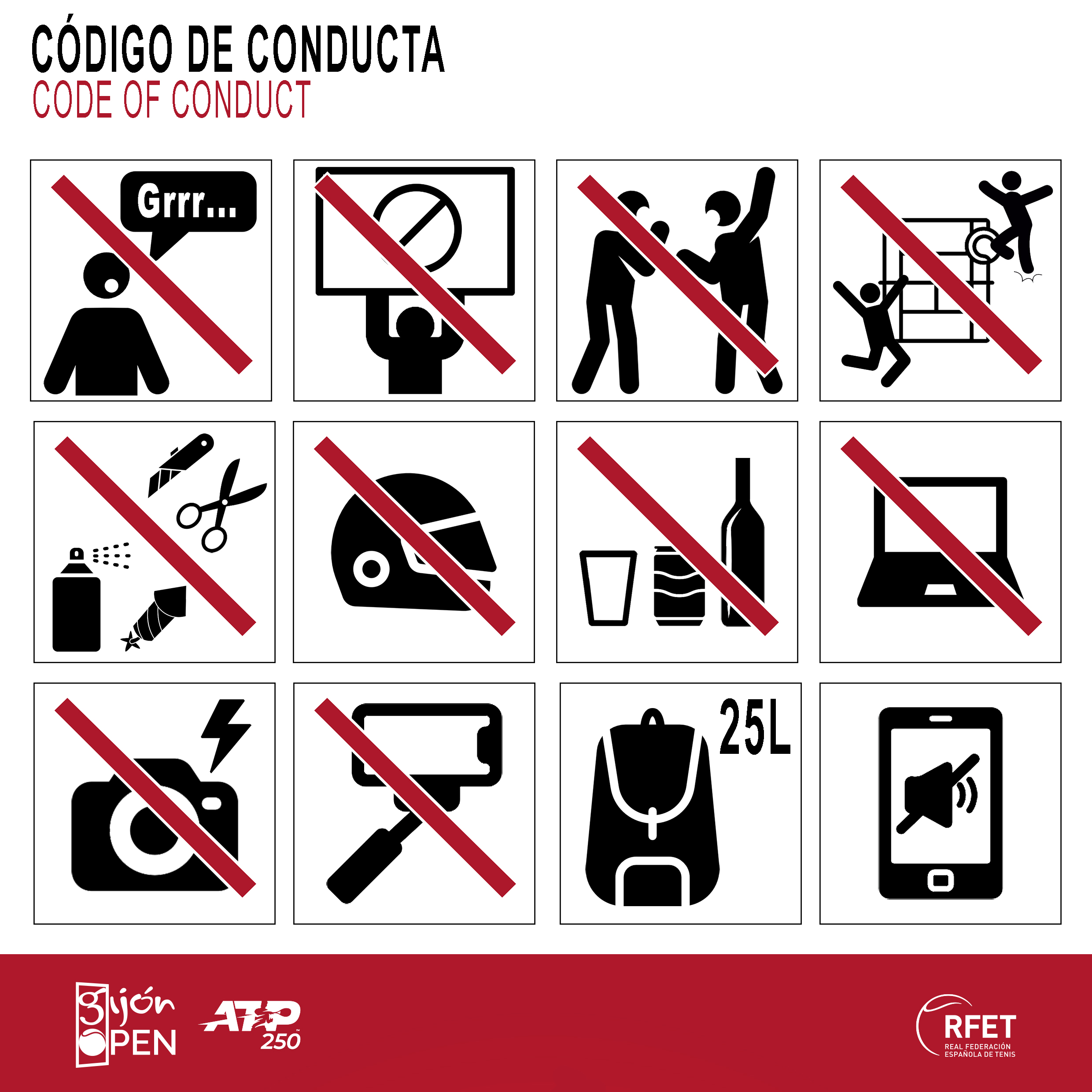 CODE OF CONDUCT
To ensure that players and fans have the best possible experience at the Gijón Open, please follow the following guidelines on and around the courts:
Please keep noise to a minimum during play.
Do not leave your seat unless the players are seated at the change of ends.
Mobile phones must be switched off or silenced in the vicinity of the stands.
Be respectful of those around you, making sure not to obstruct their view or cause unnecessary inconvenience.
Flash photography is strictly prohibited on the premises.
COVID-19
The safety of our spectators is of the utmost importance to us, and all tournament measures will comply with current legislation on health protection against the COVID-19 pandemic.
FOOD AND DRINK
Spectators can choose from wide selection of food throughout the tournament, in addition to having the flexibility of bringing food and drink, while respecting the regulations established by the organizers.
Bringing food and drink
Spectators may bring food to the venue, along with non-alcoholic (uncapped) beverages, in small bags that comply with the regulations allowed for the event.
Alcohol consumption is allowed only in public bars and other authorized areas. Glass containers are not allowed on the premises.
Food area
There are food and drink zones available at the signposted/designated areas within the venue.
SMOKING ZONE
Smoking is strictly prohibited inside the entire venue in accordance with current legislation. This measure includes electronic cigarettes and the like.