Gijón Open "Las Letronas" Trophy Awaits Champion
---
---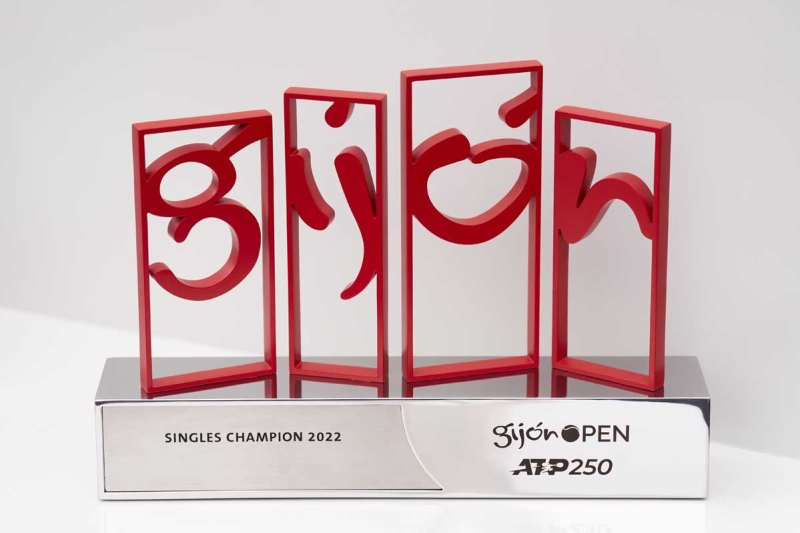 The tournament will crown its first ever champion today. Player or player will have a privilege of holding this trophy aloft in a historic moment on the Centre Court at the Palacio de Deportes La Guía.
The design of the trophy is inspired by the popular metallic, contemporary "Las Letronas" sculpture in the city centre, with the city's name emblazoned in large letters within large rectangular frames.
"Tennis is a sport where the link between the trophy and the competition is very strong, it's an extremely potent symbiosis. Some events can be identified just by their trophies alone, and this was the idea behind the design of the Gijón Open trophies," explained designer Juan Jareño.
The trophies are made of stainless steel, with come components made of aluminium to lighten the weight (7kg). In what was a true masterpiece of blacksmithing, many local artesans lent their skills to the production of the fabulous trophies, which was headed by local firm Abezeta Identificación Visual.
The famous local designer explained that both the winner's and runner-up trophies give a nod to the sport. "The trophies of the winner has a base that may look like a simple base, although it could also be interpreted as a net on which the letters sit. The egg-shaped runner's up trophy is an abstract representation of the shape that the ball takes when it comes into contact with the racquet."

Photo: Gijón Open