Gijón Open Trophy: a Replica of Iconic Metal Sculptures
---
---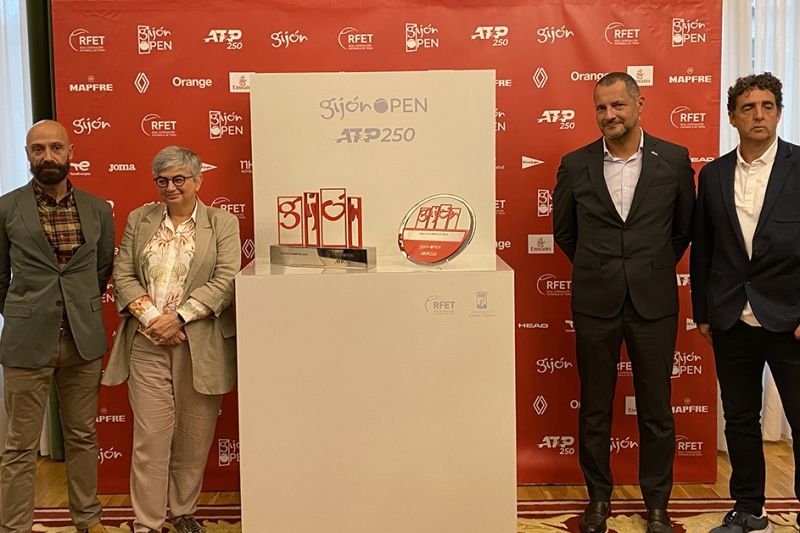 The Gijón City Council played host to the unveiling of the Winner's and Runner-up's trophies for the Gijón Open – ATP 250 which kicks off tomorrow at the Palacio de Deportes La Guía . Mayor Ana González was in attendance, as was Tournament Director, Tomás Carbonell; President of the Principality of Asturias Tennis Federation (FTPA), Fernando Castaño; and trophy designer/creator, Juan Jareño.
At the same time, other events were also announced at the ceremony, including a tennis exhibition at the Muséu del Pueblu d'Asturies, a chat with Spanish Captains Sergi Bruguera and Anabel Medina, as well as the Aces initiative for charity.
A famous Symbol now a Trophy
The Gijón Open – ATP 250 trophies are inspired by the popular "Las Letronas", a contemporary symbol bearing the city's name on a grand scale in large metallic letters, enclosed in eye-catching rectangular red frames.
"Tennis is a sport where the link between the trophy and the competition is very strong. Some events can be identified just by their trophies alone, and this is was the idea behind the Gijón Open trophies", explained designer Juan Jareño.
Other Activities
The President of the FTPA, Fernando Castaño, has outlined a list of other events that will take place concurrently with the Gijón Open: "What we want is for people to have a tennis experience beyond the Palacio de La Guía."
For one month, the Muséu del Pueblu d'Asturies will host a exhibition covering 100 years of tennis. Friday 7th October saw an informal talk take place with Spanish Davis Cup and Billie Jean King Cup Captains, Sergi Bruguera y Anabel Medina at the Colegiata de San Juan Bautista. There was also a tribute to Lola Menchaca, a Spanish champion from a century ago.
The official tournament launch presentation will take place next Monday at the Campo Valdés and on Wednesday, a giant 32-square metre screen will be installed in the town square, Plaza Mayor, bringing the tournament even closer to the locals.
Aces for a Good Cause
Tournament Director, Tomás Carbonell, has launched a solidarity initiative for the Fundación MAPFRE, the main sponsor of the Real Federación Española de Tenis (RFET). For each ace served at the tournament, 25€ will be donated and the money will go to the Asociación Alarde.
Mayor Ana González, closed proceedings by highlighting the work undertaken by all those involved in putting the tournament together: "These sporting events need to go beyond simply being tournaments, and I believe that we have achieved this thanks to all the other activities that are taking place around the Gijón Open."
Photo: Gijón Open.