Ready, Set, Gijón!
---
---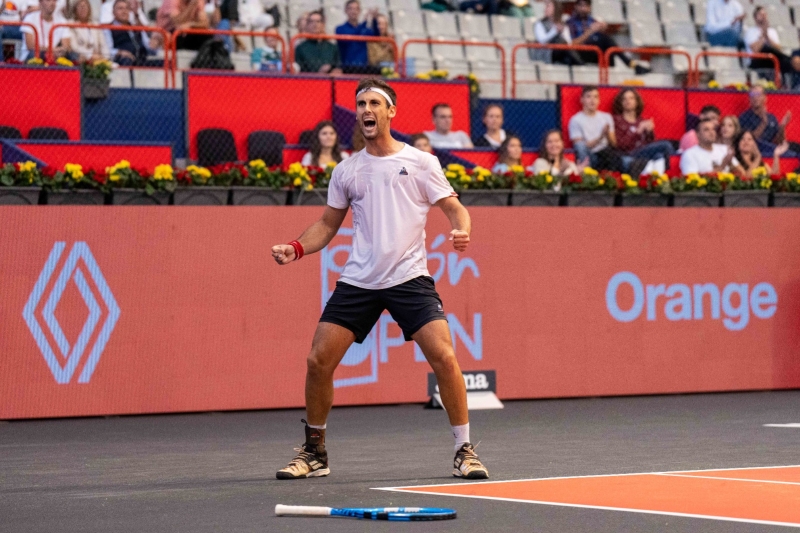 The tournament has kicked off in spectacular fashion with some amazing matches and large crowds making for a memorable first day
The match that launched the tournament was a three-hour-and-twenty-minute nailbiter which went down to the wire. The first ever match at the Gijón Open will go down in the history books, and it went the way of the local player, Carlos Taberner, much to the delight of the local crowd. Having let five match points slip in the third set, the top seed eventually grinded his way to a win on his sixth match point in the third set tiebreak. So extreme was the intensity and duration of the game, that two other matches started and finished on court 1 at the same time, with Alexey Vatutin moving through to the next round along with Frenchman Titouan Droguet, who upset fourth seeded Italian Raul Brancaccio.
Manuel Guinard, another player from across the northern border, got past Spaniard Eduard Esteve, while his compatriot fared better, as Nikolas Sánchez Izquierdo won a two hour match in three sets over Johan Nikles of Switzerland.
The last match scheduled for court 1 did not go ahead as Bulgarian Dimitar Kuzmanov was forced to withdraw due to injury. This paved the way for Italian Lorenzo Giustino to advance to round two without breaking a sweat.
The backlog on centre court due to the marathon maiden bout was cleared thanks to the cancelled match on court 1. Therefore, Nicolas Alvarez promptly had his match against Oriol Roca moved to Court 1, and was able to take out his compatriot in a come-from-behind three-set win, rounding out the results of day 1 of qualifying.
The matches on centre court saw up to 2,500 people in the stands soaking in the atmosphere. The main draw ceremony was held as planned in the early evening with Martin Landaluce on hand to help pick the names. He even stuck around to take selfies with fans and sign autographs. All in all it has been a spectacular first day at the tournament with plenty of tennis on display and with the locals enjoying some great tennis and fully embracing the arrival of an ATP tournament in their city.
Results: Saturday
QUALIFYING – Round 1
[1] Carlos Taberner (ESP) def. Filip Cristian Jianu (RUM) 7-5 6-7(6) 7-6(5)
[7] Alexey Vatutin def. Alberto Barroso (ESP.WC) 6-3 6-4
[2] Manuel Guinard (FRA) def. [Alt] Eduard Esteve (ESP) 6-2 6-2
[8] Nikolás Sánchez-Izquierdo (ESP) def. Johan Nikles (SUI) 6-2 1-6 6-1
Lorenzo Giustino (ITA) def. [3] Dimitar Kuzmanov (BUL) w/o
[5] Nicolás Álvarez Varona (ESP) def. Oriol Roca (ESP) 4-6 6-3 6-2
Titouan Droguet (FRA) def. [4] Raul Brancaccio (ITA) 6-4 6-4
[6] Marco Trungelliti (ARG) def. [WC] Daniel Mérida (ESP) 6-3 6-4
Line-up: Sunday
QUAIFYING – Round 2
[1] Carlos Taberner (ESP) vs [7] Alexey Vatutin
[2] Manuel Guinard (FRA) vs [8] Nikolás Sánchez-Izquierdo (ESP)
Lorenzo Giustino (ITA) vs [5] Nicolás Álvarez Varona (ESP)
Titouan Droguet (FRA) vs [6] Marco Trungelliti (ARG)
Photo: Gijón Open.