The Gijón Open is officially launched with Pablo Carreño as ambassador
---
---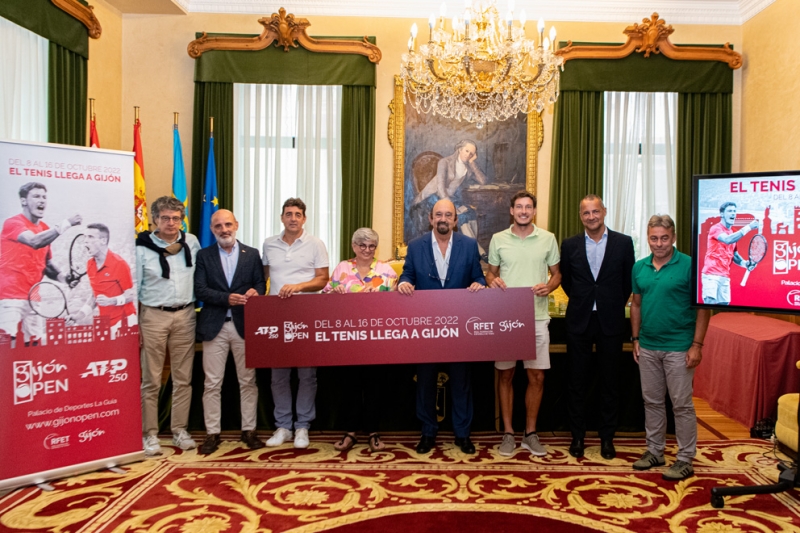 The first ATP Tour event owned by the Royal Spanish Tennis Federation (RFET) will be played from October 8 to 16 at the Palacio de Deportes de La Guía
The new ATP 250 Gijón Open 2022 was officially presented this Wednesday at the City Hall of the Asturian city. In attendance was the mayor, Ana González; the president of the Royal Spanish Tennis Federation (RFET), Miguel Díaz; the tournament director, Tomás Carbonell; and local player Pablo Carreño.
The tournament is the first to be organized by the RFET on the ATP Tour. It will be held from October 8 to 16 at the Palacio de Deportes La Guía on an indoor court, and tickets will go on sale in the coming days exclusively through the official tournament website www.gijonopen.com.
Díaz: "We are a top federation, and deserved a tournament like this"
The President of the RFET, Miguel Díaz, thanked the Gijón City Council for its commitment to tennis: "Gijón offered us a benchmark city, with growing tourism, and this tournament is not only important in Spain but worldwide. I believe that the return it is going to receive will be higher than expected."
The head of Spanish tennis has recognized the difficulty of achieving an event on the tour: "The competition we had with other cities was considerable, but we told the president of the ATP that we are a top federation in terms of results and we deserved a tournament like this."
González: "Gijón enters a very exclusive club"
The mayor of the city, Ana González, has highlighted the impact that the event will have worldwide: "Gijón enters a very exclusive club of cities that host an event as distinguished as this tennis tournament. These great events are not just sporting, they help us to be well known all over the world."
The director of the tournament, former tennis player Tomás Carbonell, explained that: "We are going to try to do it very well and we hope that the ATP sees us as a real option to have a tournament in the future. But let's be aware that this year is an exceptional occasion born of the situation in Russia and Asia."
Photo: Gijón Open.