Wednesday: Day 3 Blog
---
---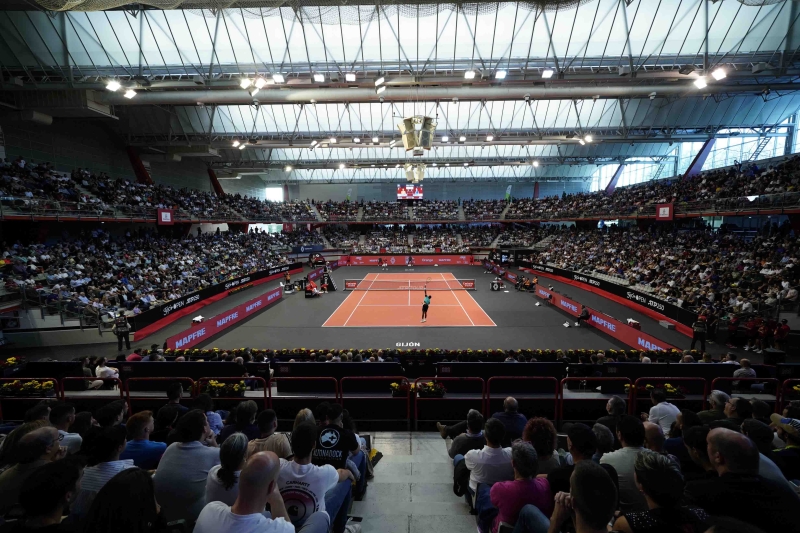 22:38 | Thiem steamrolls his way through the final set to take the match 3-6 6-4 6-0.
22:00 | Thiem claws his way back to claim the third set 6-4.
20:50 | Giron stuns Thiem to seize the first set 6-3 in 37 minutes.
20:15 | Serbian Nikola Cacic and his partner Hugo Nys from Monaco win an epic battle. After almost two hours, the Europeans defeat South African Raven Klaasen and his Brazilian partner Marcelo Melo 6-2 6-7 16-14 .
20:05 | In the last match of the day, Dominic Thiem and Marcos Giron take to Centre Court.
19:52 | In what seemed more like relief than elation, Carreno seals the deal 6-4 7-6.

19:42 | 6-6: into a tiebreak we go!
19:35 | The Brazilan breaks back to level the first set 5-5.

18:44 | Pablo Carreño notches the first set 6-4 against Monteiro.

18:10 | Sander Gille (BEL) & Fabrice Martin (FRA) have upset the top doubles seeds Marcel Granollers (ESP) & Horacio Zeballos (ARG) 7-6 6-4.
17:51 | Local star Pablo Carreño debuts in front of his home crowd for the first time ever in a professional singles match. He is taking on Brazilian Thiago Monteiro.
17:40 | Korda also captures the second set to beat Munar 6-4 6-1.
16:55 | Korda takes the first set 6-4 over Munar.
16:20 | Rafael Matos (BRA) & David Vega Hernández (ESP) have posted a 6-3 6-3 victory over the young spanish duo Alejandro Davidovich Fokina & Martin Landaluce.
16:10 | The afternoon session on Centre Court gets started with the first meeting between former world #1 junior Sebastian Korda and Jaume Munar.

15:45 | Tommy Paul takes the match against Álvarez Varona 6-3 7-6.
15:00 | Rinderknech defeats Lestienne 6-4 6-2 and is the first player through to the quarterfinals.
14:35 | Centre Court: Tommy Paul outdoes Álvarez Varona in the first set, and takes it 6-3.

14:20 | Rinderknech breaks his compatriot's serve and then consolidates to go up 6-4 on the scoreboard.
13:45 | Another qualifier, Spaniard Nicolas Álvarez Varona, takes to Centre Court to face fifth seed Tommy Paul (USA).
13:35 | Cachcin piles on the pressure to take the match over Vatutin 7-6 6-0.
13:25 | Next up on Court 1, the battl e of the Frenchmen: Constant Lestienne vs Arthur Rinderknech.
13:10 | Cachin takes the first set 7-6. Meanwhile at the same time over on Court 1, Dutch pair Sander Arends & David Pel win their doubles match 6-1 6-2 against the South American combination of Diego Hidalgo (ECU) & Cristian Rodríguez (COL).
12:00 | First up on Centre Court is the first-ever career meeting on the ATP tour between Pedro Cachin and qualifier Alexey Vatutin. This is Cachin's indoor debut in 2022, and Vatutin's first tour-level match since he lost to Martin Fucsovics in St Petersburg in 2019. Doubles action is also underway on Court 1.

ORDER OF PLAY
Wednesday, 12th October
Centre Court
12:00pm
Pedro Cachín (ARG) vs [Q] Alexey Vatutin
[Q] Nicolas Álvarez Varona (ESP) vs [5] Tommy Paul (USA)
Not before 4:00pm
Sebastian Korda (USA) vs Jaume Munar (ESP)
Thiago Monteiro (BRA) vs [2] Pablo Carreño (ESP)
[PR] Dominic Thiem (AUT) vs Marcos Giron (USA)
Court 1
12:00 horas
[Alt] S. Arends (NED) / D. Pel (NED) vs D. Hidalgo (ECU) / C. Rodríguez (COL)
Constant Lestienne (FRA) vs Arthur Rinderknech (FRA)
[3] R. Matos (BRA) / D. Vega (ESP) vs [WC] A. Davidovich (ESP) / M. Landaluce (ESP)
[1] M. Granollers (ESP) / H. Zeballos (ARG) vs S. Gille (BEL) / F. Martin (FRA)
N. Cacic (SRB) / H. Nys (MON) vs R. Klaasen (RSA) / M. Melo (BRA)
Photo: Gijón Open.