Thursday: Day 4 Blog
---
---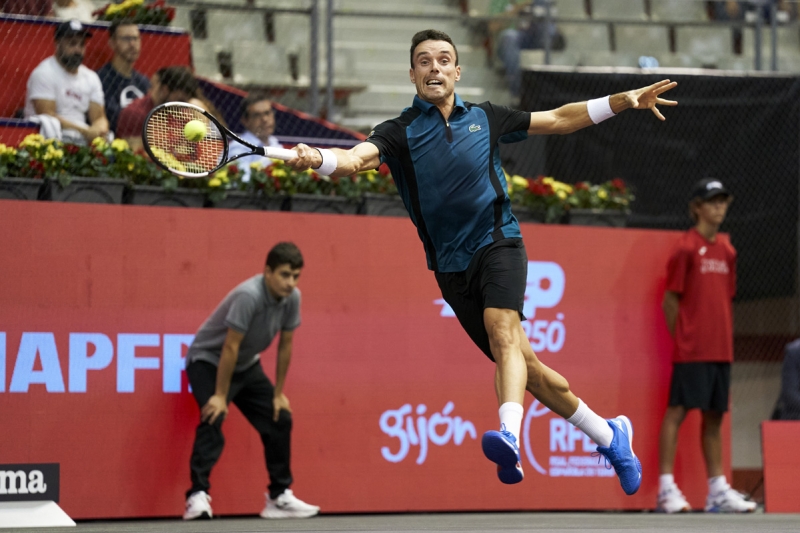 22:54 | Korda pulls off the upset of the day, taking out the #3 seeded local Bautista Agut 5-7 6-4 6-4.

21:52 | Korda evens things up, taking the second set 6-4.
20:58 | After 47 minutes, Bautista wins the first set 7-5.
20:00 | Sebastian Korda (USA) and Roberto Bautista (ESP) take to the court or the last match of the day.
19:46 | After a struggle, Rubles takes the match against his friend 6-3 5-7 6-4 after 2 hours and 26 minutes, closing it out with an ace on his second match point.
19:03 | Ivashka comes back from 2-4 down to take the second set 7-5 against Rublev.
18:45 | In the last match of the day on Court 1, Nikola Cacic (SRB) & Hugo Nys (MON) have beaten second seeded Italians Simone Bolelli & Fabio Fognini 6-4 6-2.
18:10 | Rublev wins the first set 6-3.

17:20 | On Court 1 Americans Nathaniel Lammons and Jackson Withrow win the doubles match 6-7(8) 6-4 10-6 against Rafael Matos (BRA) and David Vega Hernández (ESP).
17:15 | Top seed Andrey Rublev takes to Centre Court along with Ilya Ivashka for the third match up today.
17:03 | Murray's experience made the difference, with the Scot grinding out a 3-6 7-5 7-6(3) victory in 2 hours and 47 minutes. In his post-match on-court interview, Murray stated, "I served well in the second and third sets, but also I fought very hard." Next up Murray will face either Korda or Bautista, but "now, I'll rest, put my feet up and watch them (Korda and Bautista) and hope they play for a very long time!"
16:55 | It all comes down to to a third set tiebreak!

16:26| Cachin breaks Murray again to take a 3-2 lead.
16:05 | Murray hits a high backhand volley winner to take the second set 7-5.
15:35 | Court 1: In the first doubles match of the day the argentinian pairing of Maximo Gonzalex & Andres Molteni got the better of Francisco Cabral (POR) and Jamie Murray (GBR) 6-3 7-5.

15:10 | Cachin pockets the first set 6-2 after 60 minutes of play.
14:10 | Scotsman Andy Murray and his Argentine opponent take to Centre Court.

13:56 | The Argentinian has an easier time taking the second to post a 7-6(5) 6-2 win over Guinard.
13:17 | With a backhand winner down the line, Cerundolo closes out the firs set 7-6(5).

13:08 | After almost an hour, into a tiebreaker we go!

12:50 | Cerundolo draws even: 4-4.

12:43 | Cerundolo breaks back immediately: 4-3.

12:38 | Guinard breaks the man from Buenos Aires to go up 4-2 in the first set.

12:00| Fourth seed Franciso Cerúndolo comes out onto Centre Court. He faces the only qualifier left standing, Frenchman Manuel Guinard.
Photo Gallery: Today's other winners.